ALL THE FOLLOWING WAS BORROWED FROM LANCE!

I DID NOT WANT THIS INFO LOST IN CYBERSPACE SO I'M ONLY PRESERVING IT NOT TRYING TO RIP-OFF YOUR WORK !!! KUDOS TO YOU !!! FROM THIS SITE http://www.geocities.com/hootybug/shit1.htm

Lance contacted me about this and gave me permission to continue using it.

THANKS MAN!

AND NOW Lance's Artical......

Looking at one of those import mags, I noticed that several companies make short throw shifters. These are typically for Honduh's and such but it got me thinking…….A short throw 510 shifter? Sounded good to me and I am always up for a project. Usually about half way through my projects I end up scratching my head wondering what the hell I was thinking. That may be the case this time if the weld on the shaft breaks. It has held up to my garage beatings so we will see. Make sure you tig weld the shaft if you try this. In the end it reduced my shift throws by about 50%.

Here is the first step, cut up the shaft. Top arrow is pointing to about 1.5" inch piece of round stock that I cut from a spare shift rod. Bottom arrow is where I cut the shaft.
---
---
Here is what you should have so far: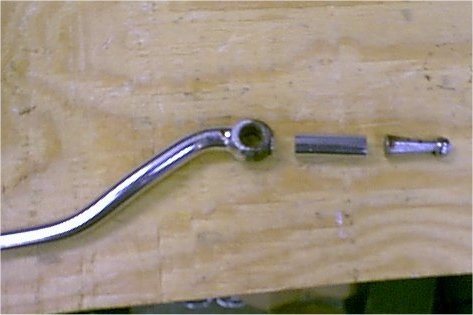 Next weld or have it welded together (TIG). Doesn't have to be perfectly straight just make sure it is a top notch weld job as there will be a lot of stress on this thing.
Here is what it should look like now: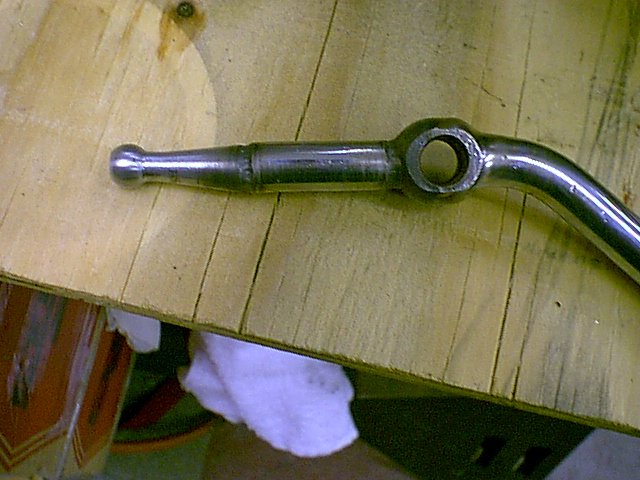 Now on to the tranny part of this madness. What I did here was to first tap the holes where the old shift pivot was. Then I used some ¼" flat stock, drilled holes for the new shift pivot and bottom retaining bolts. Add a few bolts, washers, and there you have it. If you cant make sense of this check the pic, should be self explanatory. Basically all you are doing is moving the shifter pivot higher thus changing the shift geometry. You could lengthen the shaft and reduce throws even more but much longer and I would really worry about the welds holding. If it breaks I can always use that spare screwdriver in the trunk to get me home.